Our Latest Posts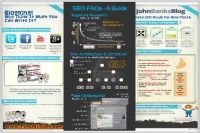 30 Minute Infographics: How To Create Stunning Infographs For Free
... and Then Sell For Profit, What Is An Infograph?
If you do not know what an infographs is by now then you really haven't been paying attention much to what is going on online recently. An infograph is a large graphic that contains information hence the name infographs… clever eh?
Infographs are big business, why? Because they get shared and when things get shared they go viral and when something goes viral it gets traffic, a lot of traffic to be precise...Read More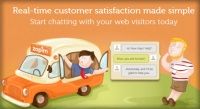 Interact With Your Site Visitors Live With Zopim Chat
Today I want to tell you about Zopim.com. This I believe could be an excellent service for bloggers and internet marketers as it gives you the opportunity to chat to visitors to your site in real time, turning you from just a blog to a real person.
I thought this was really powerful, if I was a potential customer looking to use his service and I need to ask a question I could and chat directly with a live person. Not only that, as a site owner he was able to initiate a conversation with any visitor. As we know with social media today engagement with people is very important...Read More
Time is Your Most Valuable Resource, Learn How to Manage it
In a brutal world where competition between companies and internet marketers has become a normal occurrence, it is imperative to prioritize and ration your time the best way you can.
Small and medium-sized businesses have an even more difficult task because they have to wear a lot of hats at the same time. Planning projects, sending e-mails, writing articles, organizing team members and contacting clients are only a few of the many daunting tasks which an entrepreneur has to tackle each and every day...Read More
Warrior Forum Special Offers Training Video: Make £212,314.71 In less Than 18 Months
I have something special here, on Saturday the Minions glorious leader Tim Lowe did a special training session with one of his students John Pearce. John makes a killing selling easy to make short information products on the Warrior Forum.
The training was recorded and the recording is now online for anyone to watch, not only do you not need to opt in to watch the video, John actually shows you everything for free what he does to make money selling products on the Warrior Forum.
John made £114,735.60 from his first Warrior Forum product; he then went on to make another £42,207.44 a few weeks later, and he insists you could do the same...Read More
Offline Marketing With Fun Printables.
This idea has a lot of potential if done well, I think the idea is great for many types of websites but not sure how this will work for Internet Marketing niches but I know that some ingenious person could have a great idea that would work.
The main idea itself is a great one and I saw it being used on a post on the SmartPartyPlanning website. SmartPartyPlanning is a website dedicated to all things parties, it covers things like food, cakes and decorations for parties like birthday parties, St Patricks day and Valentine's day etc....Read More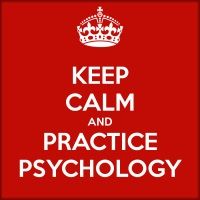 The Psychology of Affiliate Marketing
Today's post is a short and sweet one from our friend Alex Whalley from Sydney Australia. Alex runs several successful affiliate campaigns and today he wants to talk about the mindset and psychology that is required to be successful at affiliate marketing. Ok so I am going to hand you over to Alex now…
The Number 1 Reason Why Your Affiliate Marketing Campaign Has Fallen Flat This article comes as a response to a resounding question that echoes across Online Marketing forums and Facebook Groups across the globe, and although there is no definitive answer to the question I am attempting to tackle here, I think if we remove all the variables and focus on one important factor then we can start to get an idea of what IS important...Read More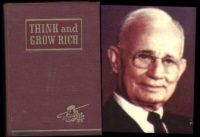 The Six Steps To Success- Think and Grow Rich. Today I want to share a few excerpts from the book and reasons why you should have this book on your smart phone, tablet or laptop and why you should read it as much as possible. You might think that success comes from doing stuff and not really focus much on the mental aspects needed for success. Your mind, your beliefs and the way you think can in fact have more of an effect on your success than you realise...Read More
The Importance of Having a Mastermind Group I first came across the idea of mastermind groups when I read the fantastic book 'Think and Grow Rich by Napolean Hill. For those who do not know, with the help of Andrew Carnegie Napolean Hill was able to spend time with 500 of the wealthiest business men across the United States for around a 25 year period. He was studying what they did and interviewing them to find out what was the driving force behind their success and wealth. Everything he learned was published in the fantastic book Think and Grow Rich in 1937. By 1970, the time of Napolean Hill's death, the book had sold 70 million copies worldwide...Read More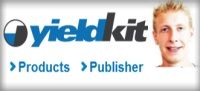 The New Monetization Experience with YieldKit Today's post is one I requested and was written by my friend Robert Walker in Germany, Rob works for YieldKit which is an affiliate network designed for bloggers and site owners. I was curious as to how it worked and what they offered people in the way of commissions. Rob kindly put together this excellent post explaining all. I would like you to know that we do not earn any commissions from people signing up for a free account. We offer this post as information for you as another way to make money online.
Ok so now I hand you over to Rob…Read More
Easy Twitter Guide By Clair Trebes Review Today I have the pleasure of reviewing the new eBook Easy Twitter Guide by Clair Trebes. For those of you who don't know Clair, she specialises in all things Social Media. She has helped us Minions out quite a lot with our Facebook and Twitter issues and she is the person I normally send people to if they have any Social Media problems or questions... Read More
Today's excellent post 'Pinterest – The Content KING' is written by Clair Trebes, Clair is a social media specialist, pro blogger, writer & internet marketer. Ok Clair it is over to you…
Pinterest has been causing quite a stir since it catapulted itself into the Social Media spotlight, with over 11 million users worldwide.
It has a VERY unique appeal aside from the giant Facebook, and that is because you will be able to find users of all age, race, gender worldwide, and do you know what else. Statistics prove that Pinterest users are prolific shoppers!...
Read More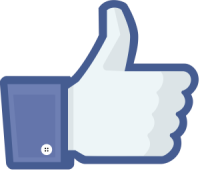 Use Like Gate To Get More Facebook Traffic Today's post 'Use Like Gate To Get More Facebook Traffic' comes from John Banks, I personally asked for this to be written because I didn't know this could be done until I saw him doing it on his excellent site JohnBanksBlog.com, I think this is an excellent way to get more Facebook likes for your business page and something more people should implement. So over to you now John… Every now and again a little plugin comes along that can have some great benefits. Like gate is a free plugin and is used for content blocking or hiding as I prefer to call it... Read More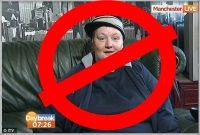 The State of The Nation. Time for A Tax Rebate? Today's post is going to be a little different, I think it is time to have a moan, and why not? I am on the side of the little man as I am one of them. We are all good people doing what is expected of us by the Government. We give up our time to work and we get paid money in exchange for our time, but part of the deal is that we are then taxed, some of the money we earn for our time and labour is taken off us for those who cannot work. Or so we thought, it seems that a lot of the money does not go to those who are unable to work but those that choose not to...Read More
How to Write Hot Content that Clients Love. Lessons from Madonna Today's excellent post 'How to Write Hot Content that Clients Love. Lessons from Madonna' comes from John Gibb, John is a top affiliate in the health industry, pro blogger and content writer. Ok John, over to you… Let's face it: getting paid to write for others is an amazing business. We not only get to chose whom to work with, but also have the incredible option to tackle any niche, industry or subject... Read More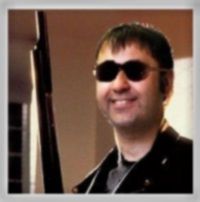 How To Set Up An Avatar For Blog Commenting Campaigns Blog commenting is a very important part of blogging and can be very powerful, not only do you get exposure but you can build a following and a very helpful network of friends. Many blogs will also show your latest blog post to new people. Do this to many sites over time and you build a huge network of free advertising for you your blog and your posts ...Read More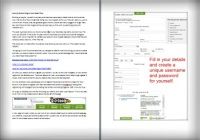 Creating A Blog Post In Word & Adding To WordPress.
I always write my posts in word for the simple fact it is easier, you can if you so wish write your post in WordPress itself in the editor window but I prefer to do it in Word as I can do it offline and see better how the post would look when published.
I can lay it out as I want it and simply copy and paste the information into the editor and it should keep all of the source formatting...Read More
Don't Spread Yourself Out Too Thinly. In this post I am going to discuss something that I think a lot of people are doing, which is harming their chances of success and that is spreading themselves too thinly. The reason I believe a lot of people are spreading themselves too thin is because I do it and I identify with it. As bloggers and internet marketers we are told to 'be everywhere' and this is a very important marketing fact. We do need to be everywhere, we need our names and websites to be seen regularly so we can be remembered and become recognisable. We need to be like Coca Cola or McDonalds, people tend to trust and buy from people and companies they know... Read More
How To Forward Gmail Emails To Your Main Email Account. Today's post is going to be a short but possibly helpful post. There will be the written steps to follow and a video for you to watch if you so wish. I decided to cover both angles as we know people learn in different ways. Ok so if you are like me, you probably have a lot of different Gmail accounts for different websites and projects. It is the nature of the Internet Marketing industry and blogging world. To go and check each and every one of these accounts can be time consuming and time is often the one thing we are short of. Especially if you write most of your own posts, eBooks and make things like videos... Read More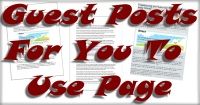 Struggling To Find Sites Willing To Publish Your Guest Posts? As you are probably aware I like to think outside of the box every now and then, I try and think of ways to help newbie bloggers get traffic and exposure. When you are new and starting out it has been recommended that you write guest posts and get them published on other people's blogs. (Please note for this post I use the term 'guest posts a lot', please read the bottom part about Google's new stance on guest blogging and why you should change your pages terminology.)... Read More
Will Guest Posts Destroy Your Site?
Recently I read that Google was considering penalizing sites that used guest posts on a regular basis. This is a shame as it has become the latest big thing in SEO recently but that is mainly down to Google and their recent updates.
Google are trying to clean up the web and that means they are trying to penalise sites that have created unnatural and unethical links to shoot them up the Google rankings and to reward those that are using natural links... Read More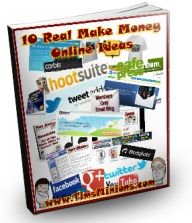 How To Make a Small Fortune With Tiny $7 Products There are many ways to make money online, it would take me ages to list them all, some are great and some are downright unethical. It is hard for me to say which side I swing when it comes to making money online. I love the freemium model where you give free information away that ultimately generates money from recommended affiliate commissions and advertising from your site so you are not actually selling anything but at the same time I understand the value of a product and understand that selling a product is after all the standard business model used in offline business... Read more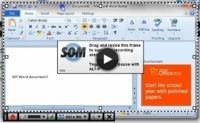 Screencast-O-Matic.com: Creating Video Tutorials to Make Money. Today I want to show you how to make quick and easy video tutorials that you could use to make affiliate commissions. I have written a few times about why and how videos can be used to generate money as well as create good content to keep visitors returning. In the video below I want to introduce you to an excellent screen capture software that is free to use. You can also plug in a camera and record what the camera sees which is ideal for un-boxing... Read More
Minions Game!
Tim's Minions Game For Android Yes that is right, we wanted to have a bit of fun and create a mobile game and see if we can get it shared around the younger market and attract some younger traffic to the site for free. Unfortunately we have yet to get an iPhone version made but as Android seems to be steaming ahead in the popularity stakes we will see how well this does first before we get one made. Click on the image to the left to start the download to your smart phone and start the fun!!